As the body starts to re-tox as soon as we complete a detox programme, detox needs to be done on a regular basis through out the year.
As you start to do this, it will become the normal way of life for you. Just as you regularly clean your house, wash your skin and brush your teeth, you start to regularly cleanse your body from the inside, which is where toxins are most dangerous.
Think of it as Detox followed by Re-tox in a cyclical process, where a period of fasting/detox is followed by a period of feasting and the accompanying Retox. You then follow this with another detox and so on.
A complete detox program will include a 1 day a week, 1 or 2 weekends and a 7 Day Cleanse Programme that you should do once or twice a year.
1 Day a Week Detox
A simple detox program involves just drinking pure Ionized Water one day a week, and nothing else.
For example, you could leave Mondays as a day for this water fast. Keep in mind as you do this that the water will hydrate and flush out the toxins from your body for you, so drink lots of water and nothing else and let it do the work of clensing your cells.
This is something that you could do at home, or at our Lotus Retreat Centre where you can go for brisk sea walks, practice Yoga stretches, Chi Gung, have Massage and relax in an Infrared sauna.
People that do this regularly find that the body seems to start the detox process on the Sunday, as it knows what is coming and starts to look forward to being able to do the house clean.
The body wants to cleanse itself, but since we keep eating all the time, it can't do this because the top priority for the body is to process the food that we consume.
Doing this on a weekly basis will make a huge difference to your general health.
1 or 2 Weekend Retreats a Month
Once or twice a month you could do a Weekend Retreat with us, where you again drink lots of pure ionized water, but you can supplement it with potent raw vegetible juices, fruit and raw food.
Fresh fruit and raw vegetable juice fasts are also very effective cleansers and can be used during any detox program. Raw carrot juice mixed with raw beetroot juice is overall the most therapeutic.
Though a weekend fresh raw juice and ionized water fast is great for your health, some experts say that just ionized water by itself is sufficient.
Ionized water has the ability to quickly penetrate deeply into your cells and tissues and remove the lodged poisons. A ionized water detox program also gives your digestive system a much needed complete rest.
7-Day Detox and Cleanse Programme
The 7-Day Detox and Cleanse Programme is a life changing euphoric experience, and will provide you with the inspiration to take new measures with your eating habits and relationship to food.
This document gives details our 7 Day Detox Programme at Rossetti Lodge:
"The seven day fasting and colon cleansing programme is an integrated system of self purification that combines the benefits of fasting, fibrous intestinal cleansers, nutritional supplements and daily colon irrigations.
It is a complete programme of blood and tissue detoxification that rejuvenates each and every organ, gland, tissue and cell in the body.
It takes exactly seven days to cleanse the entire blood stream by fasting, and it requires seven days to thoroughly rid the lymph system of toxins"
The Tao of Health, Sex, and Longevity

Daniel Reid
Seven days without food might seem a grueling challenge, but actually – it's not!
The original Vitratox kit contains supplements which ensure that you won't get hungry during your fast and cleanse!
It's a pleasure to give your body this clean out and you'll feel amazing afterwards.
"The first day is simple. It takes at least 24 hours for the body to commence detoxification and start pouring toxins into the bloodstream for elimination.
The second & third days are the most difficult. By then your bloodstream will be carrying up to ten times its normal load of toxins, as the entire body excretes accumulated poisons into the blood for disposal. You will feel weak, fatigued, stiff, light-headed and perhaps nauseous, much like a heavy hangover.
This is not due to nutritional deficiency, so do not make the most common mistake of first-time faster, which is to break the fast prematurely by eating something to 'pick you up'. The moment you eat something, the unpleasant symptoms of detoxification disappear- not because of the nutrients in the food but because the food signals the body to halt the detoxification process and gear up for digestion and metabolism instead.
The worse you feel during the first three days, the more toxic are your tissues, and the better the programme is working. Hang in there and you will soon feel better than ever!
Generally, you will start passing these toxified encrustation's of mucus on the fourth or fifth day and continue to do so till the end of the cleanse. This deathly junk is collected in a sieve under the colema board, and you should carefully inspect it after each session. By seeing what comes out of you each time, you will be strongly motivated to continue through to the end of the program."
The Tao of Detox and The Tao of Health, Sex and Longevity

by Daniel Reid
The Vitratox Kit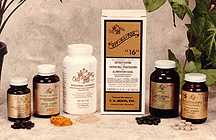 The Cleanse Kit is ingenious, and complete. You eat nothing for 7 days, but don't feel hungry and your body gets all the nutrients that it needs.
No other detox programme is as effective in removing the pounds of deeply encrusted, toxic waste that each one of us carries around in our colons.
It is manufactured today by the Irons family exactly as formulated by the founder in 1953.
More details at: Original Vitratox Cleanse Kit.
GreenLife tablets

The main items include Greenlife®, the dried extract of organically grown young shoots of green cereal grasses. The juice is extracted, chilled, and dried in a vacuum within seconds of extraction to retain maximum potency of vitamins, minerals, amino-acids and enzymes. It is stored in dark, nitrogen filled bottles.
Greenlife® provides everything your body needs and is very potent. It is pure and alive with active enzymes, and its nutrients are easily assimilated without needing any digestive effort.
The Detoxificant and Intestinal Cleanser
The Detoxificant and Intestinal Cleanser are the dynamic duo cleansing agents. The Detoxificant is derived from bentonite, a mineral-rich volcanic ash. The ash is refined by a unique process to extract the active detoxifying ingredient, montmorillonite, in a colloidal suspension that retains its innate negative charge. Montmorillonite is 1/500th the size of water molecules, and has a negative charge 200 times greater then its positive charge. Its miniscule size enables it to reach nooks and crannies that even water cannot penetrate, while its strong negative charge enables it to pick up 200 times its weight in toxic positive ions.
The Intestinal Cleanser is a finely ground special grade psyllium husk and seed. It is 100% fibrous bulk, that is not absorbed or digested but instead expands in the stomach to make you feel full, while it dredges your bowels as it passes through.
Other items are: Natural Source Vitamin C, derived from dehydrated juice of the Acerola Berry and Wild Spanish Orange, and Wheat Germ Oil and herbal laxatives made from the cascara sagrada bark.
History of the Programme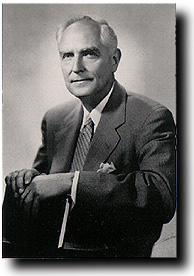 In 1935, V.E. Irons, a 40 year old former Yale Graduate developed a severe, crippling form of arthritis. Having been told that there was no cure, Irons went off to research his condition on his own, and discovered that the real cause of his chronic degenerative disease was lurking in his own clogged colon.
He cured his condition by fasting and cleansing within a year, and devoted the remainder of his long life to research, development, and teaching of fasting, internal cleansing and natural nutrition therapy.
Victor remained healthy and active throughout his long life, starting a second family at the age of 72 and fathering his last child at the age of 80. Sadly, he died from a car accident at the age of 98. His work has been promoted by people like Dr. Bernard Jensen and Daniel Reid, who dedicated his latest book 'The Tao of Detox' to Irons, saying:
"During the course of his life, V. E. Irons perfected a system of self-detoxification based on fasting and colonic cleansing that this writer regards as one of the most important contributions to modern medicine and world health in the 20th century."
Some quotes from Irons:
"Most people are aging because they are walking cesspools. They are literally rotting and decaying from the inside out."
"Regardless of your financial standing, regardless of your past health history, regardless of your age or sex, you do have this hardened mucus in your colon, and you will be amazed by what comes out of you"
"We have had specimens preserved in alcohol from several inches to a few feet in length, while the
longest we have had was 27 feet, in one piece.
Sometimes it will come out as a pile weighing as much as 11 pounds and continuing to come out for several days to a week."
Daily colonic hydrotherapy with the colema board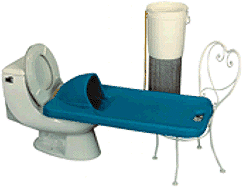 Once a day, throughout the 7-Day programme, a full colon flush will be performed. This involves using a colema board, and 5 gallons of warm water in a gravitational system to gently but thoroughly shift the toxic debris in the colon.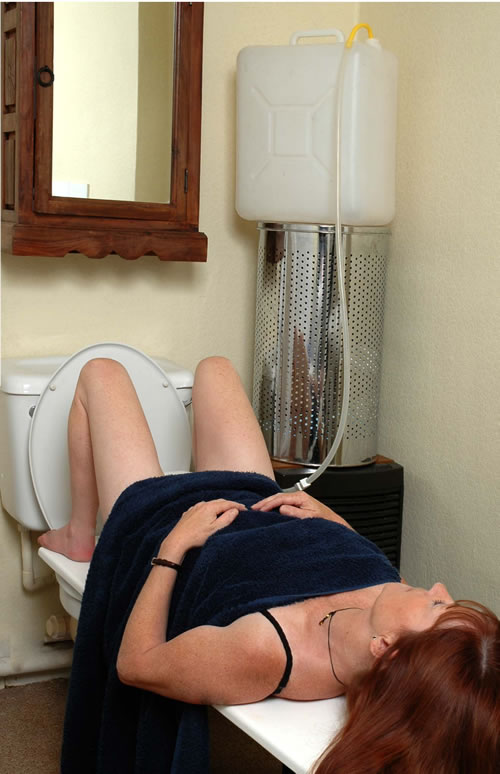 The matter that passes has built over a lifetime and you will be shocked by what comes out. Only this programme is effective at removing the deadly, toxic mucus and other long held rubbish that lives in the folds of the colon.
For a real, effective detox you must remove the accumulated rubbish and toxins from your colon, which has been built up over your lifetime. Unless you do this you will not assimilate nutrients properly, no matter how good your diet.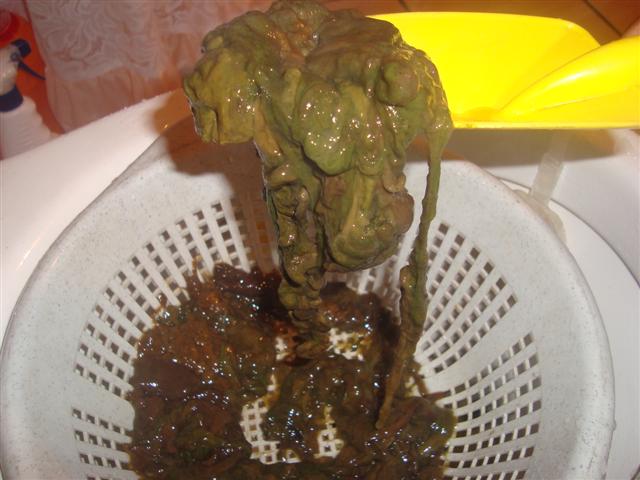 This page has some pictures of the kind of gunk that you will remove. Not for the faint hearted!!!!
Pictures of 7-Day colon cleanse programme evacuations
Typical Daily Routines 
09:00 – Vitratox Supplements (Greenlife + other nutrients)
09:10 – 11:10 Colonic Hydrotherapy (morning or evening session will be available)
10:30 – Bentonite + Psyllium powder shake
12:00 – Vitratox Supplements (Greenlife + other nutrients)
13:30 – Bentonite + Psyllium powder shake
15:00 – Vitratox Supplements (Greenlife + other nutrients)
16:30 – Bentonite + Psyllium powder shake
18:00 – Vitratox Supplements (Greenlife + other nutrients)
19:30 – Bentonite + Psyllium powder shake
19::30 – 21:30 Colonic Hydrotherapy evening sessions
21:00 – Vitratox Supplements (Greenlife + other nutrients)
22:30 – Bentonite + Psyllium powder shake
Lotus Retreat Contacts
For more information, please contact:
James Khan
A2Z Centre
639 Green Lanes
London, N8 0RE
Tel: 020 8340 8548
Mobile: 07986 250 223
Email: retreats '@' detoxifynow.com
7 Day Cleanse Programme FAQ
Please tell me more about the Cleanse Kit and the 7-Day Cleanse Program
;
The Kit is the Original 60 year old Vitratox Kit, considered by us to be the best fasting and cleansing programme available globally.
For more details, please see:
http://detoxifynow.com/vitratox-greenlife.htm (see #59 Cleansing Kit – Seven Day Cleansing Program)
This page describes the Seven Day Cleanse Program:
http://detoxifynow.com/detox_programs.html
This page is about the V.E Irons, pioneer nutritionist and health freedom fighter, who made the original discoveries, and is the father of this programme:
http://www.detoxifynow.com/veirons.html
What exactly is going to be removed from my body?
Years of accumulated toxins.  Please read this page, which is an excerpt from the book "The Tao of Detox":
http://detoxifynow.com/tao_of_detox_excerpt.html
This page has some hideous pictures of the sort of things that you will remove (please only look if you can stomach it):
http://detoxifynow.com/colon_cleanse_pictures.htm
How will I feel during the fast?
You will go through a number of physical and emotional stages, but we will be with you and help you manage them.
The following is from the book "The Tao of Health, Sex and Longevity" describing the physical stages of this programme:
http://www.detoxifynow.com/fasting_and_colonics.html
Am I allowed to consume anything at all during the fast?
No, consuming anything solid will stop the detox and cleansing process.
Fruit or vegetable juices also interfere with the process and are not required as the supplements provide all the nutrients that you will need.
You do however have the option of herbal teas, which we will have available!
What's the benefit of a week long fast as opposed to a weekend fast?
A seven day cleanse program is a complete cleanse, that purifies the entire body, all the organs, and eliminates the toxins from the colon and tissues.
A weekend fast is not as effective, but can be done on a more regular basis.  It is also recommended for persons that are very overweight to do a weekend fast first, or preferably several, and then do the seven day fast.
Do I have to join in all the days' activities during the fast?
You don't have to do anything that you don't want to do.   You can see how you feel at each moment of the day.  The optional activities will be relaxing, and focussed on calming and energising the mind and body.  Whether you join the activities, or whether you want to completely plan your own days, that's fine.  What's most important is that, together, we monitor your energy levels and make sure that you are comfortable.
Tell me more about Massage and Tantra
We run Tantra, and Tao massage workshops in London and overseas. These will be offered at our retreats. The sessions are optional. The classes will have an element of self massage and partner massage, and you will learn about and practice the Holistic Five Pillar Massage.
Will the organisers be doing the detox and cleanse with us?
Yes, during most 7 days. However, as we start to do these regularly, it may not be possible for us to fast so many times.
Will I have to share a room with anyone?
Yes, you will have to share a room, which will give you company and another person to share experiences with.  You can also request a private room.
Will there be any extra costs after the £1,300?
No, but you will need to cover your own transport costs.  We will be able to offer about 3 people a seat in our van to get there.  If another one or two people are happy to drive we can work out a full car share and all drive there together.
What would be the cost of doing the full 7 Day Cleansing Programme by myself at home?
Essential items that you need are a colema board (£375), and the Cleanse Kit (£160), and a lot of self motivation.  Optional extras would be to use an Infrared sauna (£280) and water Ioniser (£440), to aid the detox process. That would be a total of £1,255 for the equipment alone.
On our retreat we will provide colema boards and the kit, and also the Infrared saunas and water Ionizers, and a shared, supportive, and loving environment.
What if I feel ill during the fast?
A feeling of illness is common as the body detoxifies. We will talk you through the stages of this when we meet before the retreat starts.  You feel bad as this happens, but you will be helped.
Do I have to have done fasts before?
No, even if it's the first time you've fasted, that's OK.
Is this a suitable programme for weight loss?
Yes.  If you are extremely overweight, it may not be recommended – please talk to us about it.
I am very thin already – is it possible for me to do this fast?
It would be possible, but may not be recommended – please talk to us about it.
Is there any religious association with this fasting?
Fasting is a part of most religious traditions. We are not advocating a particular religion, but there are all inclusive, spiritual aspects to our programmes, based on Sufi ideals of universal love and harmony.
What are the risks involved? 
A seven day fast is a challenge, and not everyone can complete it. This original Irons/Vitratox programme is very old, established, and completely safe.
Ours is updated to make it easier with the inclusion of Ionized Alkaline water for drinking, Infrared Saunas to help the detox process, Celtic Sea Salt to replenish the salts that may be lost during the fast, daily Chi Gung, Yoga, Mediation and Massage.
Will I get a refund if I have to stop the fast for any reason?
No, sorry.
Is there anyone that the fast is NOT suitable for? (i.e. particular health problems)
If you are worried about a specific condition then please contact us and we'll discuss it with you.  Generally, we believe that fasting is good for virtually everyone.  In modern Western culture we have adapted a diet that is not nourishing or appropriate for our bodies, and most people are unaware of the effects this is having on them, physically and psychologically.   However, please remember that a seven day fast is a challenge.  If you do have a particular medical condition, please talk to your doctor first.
Who is responsible if anything happens to me?
You take full responsibility for everything that happens to you.
Will I be able to contact you afterwards if I feel strange or for advice?
Yes, of course.  You can contact us and meet with us if you would like to.
How will I feel afterwards?
You will feel great after you complete it!  There will be a sense of relief to have got the junk out of the body, and a feeling of euphoria, that will remain with you in the days and weeks that follow.
It is a life changing experience.
What are the potential benefits of this fasting and self cleansing?
Stronger immune system
Much more energy
Reduce stress
Lower blood pressure
Lower cholesterol levels
Slower aging
Brighter looks
Avoid strokes and heart attacks
Better memory and concentration
Healthier living and lifestyle
Bring more simplicity into your life
More self-care knowledge and understanding
More patience, tolerance, compassion
More loving kindness
Better sex
Better skin
More Hope
More fun with your life
The joy of living is rekindled
Sense of fulfilment with your life